Dumpster Rental in Andover, MA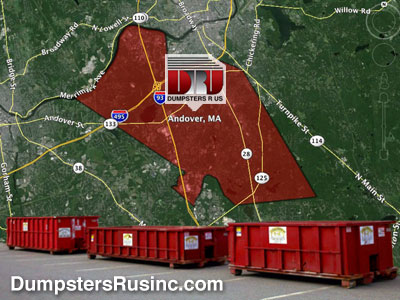 Do you live in Andover, MA and need our dumpster rental services? Dumpsters R Us, rents 10, 15, 20 and 30 yard dumpsters. These dumpster rentals can be used for yard waste, home improvement's construction debris, roofing shingle disposal and residential clean-out. Especially for junk that is too big for your weekly curbside garbage pick-up.Our waste management services include dumpster delivery to your site, hauling to the dump and junk disposal. Call Dumpsters R Us at 978-276-9796 when your garbage is more than the 135 gallons.
10 Yard Dumpster
20 Yard Dumpster
30 Yard Dumpster
Residential & Construction
Christmas Trees Disposal in Andover, Massachusetts. Old Christmas Trees will be collected the same day as trash collection. Please remove all decorations and place tree curbside. It will picked up with your regular Andover trash-pick up. Frozen Christmas Trees in snow banks cannot not be picked up.
Christmas Trash-Pickup:
Trash-pickup will not be pickup up on December 25th. Trash collecting will continue on the following day December 26th.
Starts: Wed, 12/25/13 at
Ends: Wed, 12/25/13
Andover, MA Residential Trash Pick-Up
Please note that Andover residential trash pick-up is limited to a maximum of 135 gallons. The Department of Public Works request that all households participate in recycling. The goal is to save money by decreasing the garbage tonnage and increasing recycling. Just five additional pounds of recycling per household each week diverted from the trash could save $75,000—$100,000. The Department of Public Works asks that all Andover residents participate in working towards this goal. If you have any questions or suggestions regarding Recycling and Rubbish disposal in the Town of Andover—call DPW at 978-623-8350, option 1 or email dpw-business@andoverma.gov
Household rubbish is limited to 4 bags or barrels, no more than 50 pounds each, or the equivalent of 135 gallons maximum per residence. NO "Business" rubbish accepted. Trash is collected weekly. Andover recycling is collected bi-weekly.
**All trash and recycling must be curbside by 7:00 AM **
YARD WASTE CURBSIDE LEAF COLLECTION Leaves ONLY— (same day as trash pickup)
**NO rocks, stones, branches or stumps. Call Dumpsters R Us for Dumpster rental regarding yard waste and junk removal that is beyond your weekly pick up.

Rent from Dumpsters R Us when cleaning out from an Andover, MA flood.
Nobody likes floods but they need to be dealt with. Rent from Dumpsters R Us when dealing with cleaning out jobs that are too much for your weekly garbage pick-up. Like when dealing with floods like this video displaying the 2010 flooding of the Shawsheen river at Balmoral.
March 27, 2012
The National Weather Service has placed Andover, and much of southern New England, under a "red flag warning" today, meaning critical fire weather conditions are either occurring now, or will shortly.
Andover went a step further and banned all outside burning in town. When the NWS declares a red flag warning, Andover fire chief Michael Mansfield said that he often bans burning until it is lifted to be on the safe side.