Dumpster Rental in Amesbury, MA – Dumpsters R Us, Inc
Dumpsters R Us, Inc is proud to provide Amesbury, MA with dumpster rental services. We deliver the dumpster to local residents, construction sites or businesses. You fill the dumpster. We haul it to the dump and dispose your junk.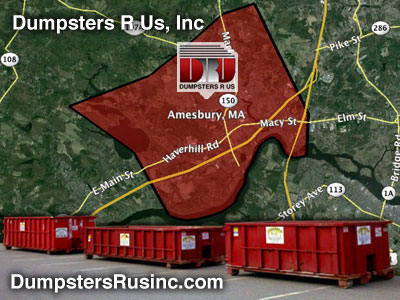 Amesbury is the second northernmost town in Massachusetts, its northernmost point coming just south of the northernmost point of the state, in Salisbury. Amesbury lies along the northern banks of the Merrimack River and is bordered by Salisbury to the east, Newburyport to the southeast, West Newbury to the southwest, Merrimac to the west, and South Hampton, New Hampshire, to the north.
Dumpsters R Us, Inc easily delivers dumpster rentals to Amesbury.
Dumpsters R Us, Inc easily delivers 10, 15, 20 and 30 yard roll-off containers to Amesbury, which is served by two interstate highways. Interstate 495 runs through town, and has two exits in Amesbury; Exit 54 at Massachusetts Route 150 and Exit 55 at Massachusetts Route 110. Route 110 also provides the town direct access to Interstate 95 at Exit 58. I-95 crosses the southeast corner of town, entering along the John Greenleaf Whittier Memorial Bridge, a steel through-truss bridge crossing the Merrimack River.

Amesbury, is a former farm and mill town, but is today largely residential and Dumpsters R Us, Inc is happy to provide dumpster rentals to residents that have have clean-out jobs that result in garbage/waste that is too much for their weekly garbage pick-up.
Powwow River, Amesbury MA – March 16th 2010
Sometimes flooding is beyond our control. Dumpsters R Us offer flooded basement can result in a lot of damage. Dumpsters R Us provides dumpster rental for junk removal.

Amesbury My Home Town -Cindy oh Cind oh Cindy
No matter how far my heart may be A part of it remains in Amesbury My Home Town -Cindy oh Cindy oh Cindy.